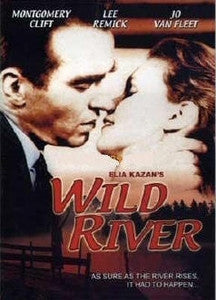 Wild River DVD (Region 1) Widescreen. Color. Beautiful and at a new, lower price!

Starring: Montgomery Clift, Lee Remick, Jo Van Fleet. Directed by Elia Kazan.
Set in the early 1930s and filmed on location in the Tennessee Valley, an idealistic TVA agent is assigned the task of convincing the locals to move from their property so that a beneficial dam can be built. One major barrier stands in his way, a feisty old woman who simply refuses to budge from her land. A masterful recreation of a troubled and complex period in American history is marked not only by its astounding locations, its first-rate performances, but by its forward-thinking and undeniably powerful social impact. A quiet and moving classic.