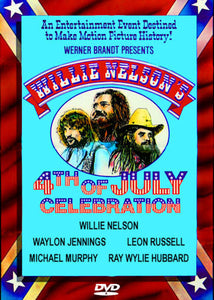 Willie Nelson 4th Of July Celebration (Willie Nelson Fourth Of July Picnic) DVD Region 1. Color.
Starring: Willie Nelson, Waylon Jennings, Leon Russell, Ray Wylie Hubbard, Ernest Tubb,  Doug Kershaw, Michael Murphy, Bobby Bare, Johnny Paycheck.
The classic and infamous 1979 documentary that captures the early days of Willie Nelson's annual festival in Dripping Springs, Texas in all its musical glory. A must-see for those who reveled in those hippie-redneck times or have long wanted the revisit the heyday of Outlaw Music and the Outlaw Messiah himself.