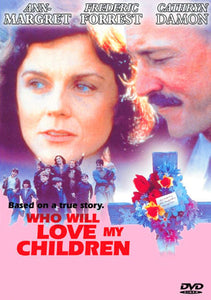 Who Will Love My Children DVD (Region 1) Color. New, lower price.

Starring: Ann-Margret, Frederick Forrest, Soleil Moon Frye.

Lucile Fray (Ann-Margret) has 10 children and terminal cancer. Her ne'er-do-well alcoholic husband, Ivan (Frederic Forrest), isn't capable enough to handle raising them; she knows that much. There's only one option left. As her last act on earth, Fray is determined to make sure her children have a secure future. This true story follows Fray as she looks for homes for her young ones while battling the disease that will eventually take her away from them.