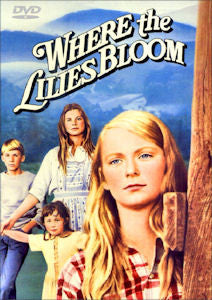 Where The Lilies Bloom DVD (Region 1) Full frame. Color.
Starring: Judy Gholson, Harry Dean Stanton, Jan Smithers.
Mary Call has promised her dying father to keep her brother and sisters together forever on the mountain, and never to take any help from strangers. She is determined to keep her word. No matter what. At first she is sure she can manage. Romey, Ima Dean, and Devola help gather herbs to sell in town; the riches of the mountains will surely keep the family clothed and fed. But then winter comes, fast and furious, and Mary Call has to learn that the land where the lilies bloom is also a cruel and unforgiving place, and it may take more than a promise to keep her family together. Beautifully filmed on location, this is the story of one young Appalachian girl's desperate, resourceful, and sometimes very funny attempts to preserve the dignity and independence of her family in the face of frightening odds. Screenplay by Earl Hamner Jr. (The Waltons).