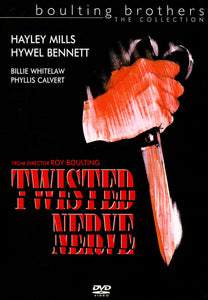 Twisted Nerve (1968) DVD (Playable in the US, Canada, Mexico, etc.) Color Run time approx. 112 min. Great print.
Starring: Hayley Mills (Susan Harper), Hywel Bennett (Martin Durnley and Georgie Clifford), Billie Whitelaw (Joan Harper), Phyllis Calvert (Enid Durnley), Barry Foster (Gerry Henderson), Frank Finlay (Henry Durnley), Salmaan Peerzada (Shashie Kumar), Christian Roberts (Philip Harvey), Gretchen Franklin ('Clarkie'), Thorley Walters (Sir John Forrester), Russell Napier (Professor Fuller). Screenplay by Roy Boulting and Leo Marks. Story by Roger Marshall, based on idea by Marshall and Jeremy Scott. Music by Bernard Herrmann. Directed by Roy Boulting.
Martin Durnley (Hywel Bennett) is a troubled young man. With a mother who insists on treating him like a child, a stepfather who can't wait to see the back of him, and a brother with Down's Syndrome shut away in an institution, is it any wonder he retreats into an alternate personality - that of six-year-old Georgie? It is Georgie who befriends Susan Harper (Hayley Mills), but friendship soon turns into obsession. When Susan begins to distance herself, something inside Georgie snaps and he embarks on a killing spree, with Susan as the next target.
"No puppet master pulls the strings on high, proportioning our parts, the tinsel and the paint. A twisted nerve, a ganglion gone awry, predestinates the sinner and the saint."