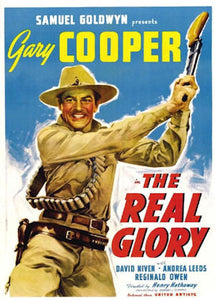 THE REAL GLORY (1939) DVD Playable in North America - the US, Canada, Mexico, etc. New, low price!

Starring: Gary Cooper, David Niven, Andrea Leeds, Reginald Owen, Kay Johnson, Broderick Crawford, Vladimir Sokoloff, Henry Kolker. Directed by Henry Hathaway. Black and White.
In 1906 the American army pulls out of Mindanao leaving a handful of officers to try and get the Philippines Constabulary into shape to protect the native population from ruthless invaders. By reputation and by their exploits the fearless zealots initially strike terror into the local militia but the doctor on the post starts to finds ways to combat this. Cooper's is solid as an Army medic who solves all of Philippines' medical and military problems almost single-handedly after destructive Spanish-American War. Excellent action scenes.