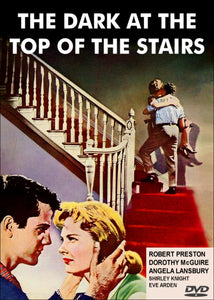 The Dark at the Top of the Stairs 1960 DVD (Region 1 - Playable in North America - The US, Canada, Mexico, etc.) Full Frame. Color.
Starring: Robert Preston, Dorothy McGuire, Angela Lansbury, Shirley Knight, Eve Arden, Lee Kinsolving. Written by Harriet Frank Jr., Irving Ravetch, based on the play by William Inge. Directed by Delbert Mann.

In Oklahoma in the 1920s,  Rubin Flood loses his salesman job. While searching for a new job, he must deal with his wife, Cora, who shuns intimacy and mistakes his joblessness for stinginess, his shy daughter who prepares for her first dance and his pre-teen son who runs to his mother instead of dealing with bullies. He tries to find comfort with a friend, Mavis Pruitt, thus setting off rumors of an untoward relationship.
Based on William Inge's classic Tony-nominated Broadway play.
"Best on the web!"
"Everytime a woman turns her face away because she's tired or unwilling - there's someone waiting like me! "