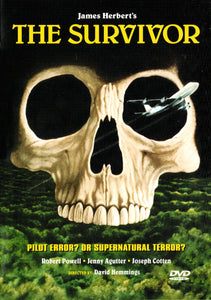 The Survivor (1981) DVD (Playable in the US, Canada, Mexico, etc.) Color, Widescreen, shown in original aspect ratio 2.35:1 / 16.9. Total running time of feature is approx. 100 min. plus many, many extra (interviews, Behind-The-Scenes, documentaries, original feature trailer, producer's background documentary, audio commentary, etc.)
Starring: Robert Powell, Jenny Agutter, Joseph Cotten, Peter Sumner and Adrian Wright. Produced by Antony I. Ginnane Written by James Herbert (novel) and David Ambrose (screenplay) Directed by David Hemmings.
When a 747 crash lands in a Sydney suburb – a still-spectacular sequence that helped make this the most expensive Australian film of its time – the inferno kills everyone on board except the pilot (Robert Powell of JESUS OF NAZARETH, TOMMY) who emerges from the wreckage miraculously unscathed. But as a local psychic (Jenny Agutter of AN AMERICAN WEREWOLF IN LONDON) begins to communicate with the spirits of the doomed passengers, it will unlock a nightmare of madness, murder and supernatural horror. Hollywood legend Joseph Cotten in his final film performance co-stars in this shocker directed by British film icon David Hemmings (BLOW-UP, GLADIATOR) and produced by Antony I. Ginnane (THIRST, PATRICK, TURKEY SHOOT), featuring haunting cinematography by John Seale.
 "From the horrifying best seller by master horror writer James Herbert (The Fog), comes The Survivor!"
"Tortured With Guilt...Why Did He Survive An Impossible Crash? Pilot Error...Or Supernatural Terror? Only One Man Can Tell!"
 Customer Review: "I had a vague memory of watching this previously during the 1980's on VHS video and comparing it to the novel by James Herbert (not enough gore effects for my depraved teenage brain) - it had a certain unsettling atmosphere that I wanted to revisit. Viewed with a more mature appreciation - this is a very good ghost story with some subtle, spooky scenes. The drama and tragedy of a plane crash and the aftermath is disturbing enough - so wisely the focus is on generating an uncanny sense of unease and mystery surrounding the event. It was great to revisit this vaguely remembered film because the quality of the picture on this disc is really very good and there are plenty of extras and an audio commentary that detail the making of the movie and its place in the respective careers of the director David Hemmings and star Robert Powell."