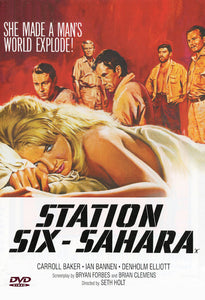 Station Six-Sahara (DVD) (Region One - Playable in the US, Canada, Mexico, etc.) Approx. 97 min. UK-X-Rated. Color Optional subtitles for HoH Shown in its original aspect ratio: 1.66 : 1 (16:9) Presented here as a brand-new High Definition remaster from original film elements in its original theatrical aspect ratio.
Starring: Carroll Baker, Peter van Eyck, Ian Bannen, Denholm Elliott, Harry Baird, Jorg Felmy, Mario Adorf. Written by: Brian Clemens (screenplay), Bryan Forbes (screenplay) based on the play by Jean Martet ("Men Without a Past") Directed by Seth Holt
Oscar-nominated Carroll Baker gives a memorable performance as a manipulative vamp in this erotically-charged, X-rated thriller written by Bryan Forbes and Brian Clemens and stylishly directed by Seth Holt. Co-starring Ian Bannen, Denholm Elliott and German character actor Peter van Eyck, Station Six-Sahara follows five dysfunctional individual, who man an isolated oil pipeline station in the Sahara, their mutual contempt only overshadowed by their desire for female company. Without warning, a car drives out of the desert night and crashes in front of the station the driver is badly injured but the passenger, a gorgeous blonde, stirs up the tension amongst the men to unbearable levels.
"She made a man's world explode! Five ruthless men... one lovely woman... in a desert hell!"