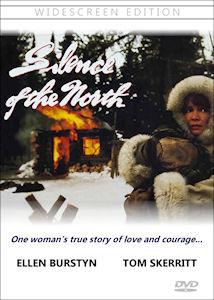 Silence Of The North 1981 DVD (Region 1 - Playable in North America - The US, Canada, Mexico, etc.) Widescreen. Color.
Starring: Ellen Burstyn, Tom Skerritt, Gordon Pinsent.

The true story of Olive Frederickson (Academy Award-winner Ellen Burstyn)—and a captivating saga about two people in love trying to survive and overcome the hardships of a frozen frontier. In Northern Alberta, Canada (Peace River), and subsequently deep into the Northwest Territories where "fur trapper" Walter Reamer (Tom Skerritt) roams and dreams of becoming wealthy from the pelts of beaver and muskrat, as he assures Olive that "It's better than gold".
The theme song is 'Comes A Time', written by Neil Young and sung by Lacy J.Dalton