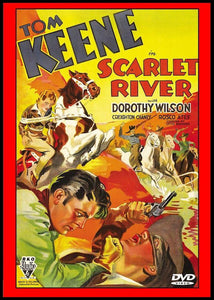 Scarlet River 1933 B&W DVD (Region 1 - Playable in North America - The US, Canada, Mexico, etc.)
Starring: Tom Keene, Dorothy Wilson, Roscoe Ates, Lon Chaney Jr., and Edgar Kennedy. Directed by Otto Brower. Produced by David O. Selznick. Music by Max Steiner.
Unable to find open range near Hollywood, western actor Tom Baxter (Tom Keene) and his troop head to Judy Blake's (Dorothy Wilson) ranch to shoot their film. Tom soon learns her foreman (Lon Chaney Jr.) has been rustling and poisoning her cattle. When Tom threatens to expose him, Judy is kidnapped and the troop told to leave. With an expert makeup man available. Tom poses as one of the outlaws in an attempt to rescue her.
Early in the film Tom Keene wanders through the RKO commissary. He has a brief talk with Joel McCrea and says hello to Myrna Loy and Bruce Cabbott, among others.
"Isn't there any place we can go to get away from civilization?… Sure, but who wants to go there?"