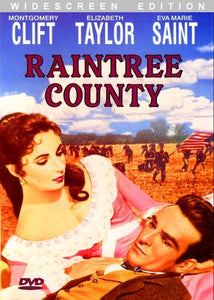 Raintree County 1957 DVD (Region 1 - Playable in North America - The US, Canada, Mexico, etc.) Color. Widescreen.
Starring: Elizabeth Taylor, Montgomery Clift, Eva Marie Saint, Lee Marvin, Rod Taylor, Agnes Moorhead.

Schoolteacher John Shawnessy of Raintree County, Indiana, is an outspoken Abolitionist, but that alone isn't why he's putting aside his books and heading for the battlefield. He joins the Union Army so that he can push into Georgia and find his wife Susanna, who has fled to her Southern home. Montgomery Clift and Elizabeth Taylor, previously together in A Place in the Sun, reunite in this sumptuous Civil War-era romance. The pairing again clicks. As Shawnessy, Clift tellingly captures the dilemma of a young man divided by passions and ambitions. And Taylor received her first Oscar nomination for her rich, textured portrayal of a wife vexed by madness. Co-starring Eva Marie Saint, Nigel Patrick, Lee Marvin, Rod Taylor and Agnes Moorehead.
Made at a cost of $6 million, 'Raintree County' was in its day the most expensive MGM film shot entirely in the U.S.