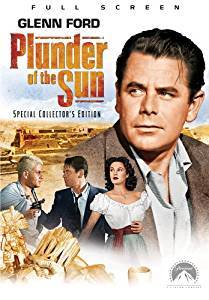 Plunder of the Sun 1953 DVD Black and White. Full screen. Close captioned. (Region 1 - Playable in North America - The US, Canada, Mexico, etc.) Extras.
Starring: Glenn Ford, Diana Lynn, Patricia Medina, Francis L. Sullivan, Sean McClory. Written by: David Dodge, Jonathan Latimer. Produced by: John Wayne, Robert Fellows. Directed by John Farrow.
A vivid tale of priceless Zapotecan artifacts, deadly deception and sinister treasure-seekers unfolds in Plunder of the Sun, based on the novel by best-selling author DAVID DODGE. Brought to the screen by JOHN WAYNE's Batjac production company. GLENN FORD stars as American insurance adjuster Al Colby, a man who unwittingly becomes involved with a fortune in ancient curios after being asked to carry a mysterious package aboard a ship sailing from Havana to Mexico. Colby's seemingly innocent mission becomes a dangerous game of pursuit when he discovers that others - including two seductive women (DIANA LYNN, PATRICIA MEDINA) and a double-crossing rogue (SEAN MCLORY)  are determined to take possession of the parcel he carries at any cost.
"There was a bullet waiting at the Zapotec gate!"