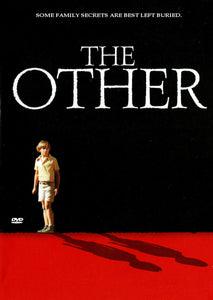 The Other (1972) DVD Color Approx. 99 min. Shown in original aspect ratio 1.85:1 (16:9 enhanced) With optional subtitles in English, Spanish and French. Region One - Playable in the US, Canada, Mexico, etc. Beautifully remastered.

Starring: Uta Hagen, Diana Muldaur, Victor French, John Ritter, Lou Frizzell, Chris Udvarnoky and Martin Udvarnoky. Written by Thomas Tryon (Based on "The Other" by Thomas Tryon). Produced by Thomas Tryon and Robert Mulligan. Cinematography by Robert L. Surtees. Edited by Folmar Blangsted and O. Nicholas Brown. Music by Jerry Goldsmith. Directed by Robert Mulligan.
Like most 12-year-olds, Niles and Holland (Chris Udvarnoky and Martin Udvarnoky) like to get into mischief. The only problem is when Holland gets into mischief, people have a funny way of "accidentally" dying. Niles knows that Holland is responsible for all the gruesome accidents happening in the neighborhood - the pitchfork hidden in the hay, the severed finger in the box, the baby in the wine barrel. He knows but dare not tell anyone, not even his beloved grandmother Ada (Uta Hagen), that Holland is the evil twin or is he?
This crime thriller, with occult overtones, puts a spine-tingling twist on the Jungian psychological notion of "the shadow." In the '30s, Holland and Niles Perry are 12-year-old twins growing up on an idyllic farm in the Connecticut countryside. Niles is a wholesome, outgoing lad, loved by the whole family. Holland's brooding mischief causes untold trouble. Eventually, the Perry family experiences a series of tragic accidents which may not be accidents. Unraveling the circumstances of these tragedies is a fascinating and subtle business. This film was adapted by Tom Tryon from his novel "The Other" and includes a film debut by the famous acting teacher Uta Hagen, as the twins' grandmother.
"Some family secrets are best left buried."