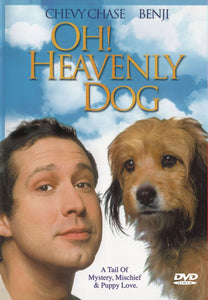 Oh! Heavenly Dog (1980) DVD Color Approx. 103 min. Optional subtitles in English and Spanish (Region 1 - Playable in North America - The US, Canada, Mexico, etc.) Shown in its original widescreen version 1.85:1
Starring: Chevy Chase, Benji, Jane Seymour, Omar Sharif, Robert Morley, Alan Sues, Donnelly Rhodes, Neil Affleck, Tony Angelo, Margaret Courtenay Written by Rod Browning and Joe Camp Directed by Joe Camp.
This heavenly and hilarious detective story stars Chevy Chase and Benji, America's favorite canine star. After being killed in the line of duty, a private investigator (Chase) arrives in Heaven, only to be told he's going back to Earth to solve his own murder and the murder case he was working on when he was killed. He's elated- until he realizes he's being sent back in the body of a small, scruffy dog (Benji)! Filled with laughs and dog stunts galore, this tail wagging comedy also stars Jane Seymour and Omar Sharif.
With a soundtrack that includes:
"Return to Paradise" written by Elton John and Gary Osborne
performed by Elton John & Gary Osborne (as Cary Osborn)
"Arrow Through Me" written by Paul McCartney
Performed by Wings
"Song for Guy" written by Elton John published by Joddrel Music