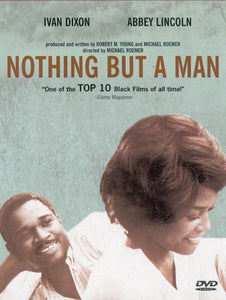 Nothing But a Man 1964 B&W Approx. 95 min. (Playable in North America – the US, Canada, Mexico, etc.) Shown in its original aspect ratio (1.37:1) Remastered digitally, for a beautiful print.  
Starring: Ivan Dixon, Abbey Lincoln, Yaphet Kotto, Leonard Parker, Stanley Green, Eugene Wood, Helen Lounck, Julius Harris, Gloria Foster, Gertrude Jeannette. Written by Michael Roemer and Robert M. Young. Produced by Michael Roemer, Robert Rubin and Robert M. Young. Directed by Michael Roemer.
NOTHING BUT A MAN  tells the story of Duff Anderson (Ivan Dixon), an African-American railroad worker in the early 1960s who tries to maintain his respect in a racist small town near Birmingham, Alabama, after he marries the local preacher's daughter (Abbey Lincoln). In addition to dealing with oppression and discrimination, Anderson must also come to terms with his troubled relationship with his own father (Julius Harris), a drunk who abandoned and rejected him.
From the sound track:
"(Love Is Like A) Heat Wave" – Martha & The Vandellas
"Fingertips (Pt. II)" – Little Stevie Wonder
"That's the Way I Feel" – The Miracles
"Come on Home" – Holland & Dozier
"This Is When I Need You Most" – Martha & The Vandellas
"I'll Try Something New" – The Miracles
"Way Over There" – The Marvelettes
"Mickey's Monkey" – The Miracles
"You Beat Me to the Punch" – Mary Wells
"You've Really Got A Hold On Me" (live) – The Miracles
"Bye Bye Baby" (live) – Mary Wells
"Director/CoScriptor Michael Roemer is responsible for the overall look and feel of this sensitive drama. Part social commentary, this film depicts a touching, often sad portrait of Americana during a challenging historical period. Heading the talented cast is Ivan Dixon as Duff, who nicely underplays his role, letting his expression emerge from within. Singer Abbey Lincoln is seen in a nice dramatic turn as his girlfriend turned wife, Josie. Julius Harris renders a moving performance as Duff's spent father. Robert M. Young's atmospheric black and white cinematography is most striking. Having received excellent critical notices, the film apparently never found a wide audience, and has become a "forgotten gem."