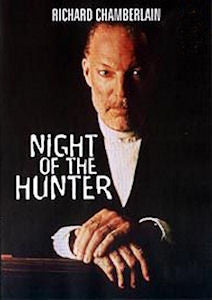 The Night of the Hunter (1991/TV) DVD (Region One Playable in North America – The US, Canada, Mexico, etc.) Color.
Starring: Richard Chamberlain, Diana Scarwid, Burgess Meredith, Amy Bebout, Reid Binion, Ray McKinnon, Mary Nell Santacroce, Ed Grady, Joe Inscoe, Rich Valliere. Written by Edmund Stevens and David Grubb. Directed by David Greene.

As the false preacher (and ladykiller) Harry Powell (Richard Chamberlain) who terrorizes a young widow (Diana Scarwid) and her children, Richard Chamberlain turns in a surprising and sinister performance in this remake of the 1955 Robert Mitchum film. There are new twists and evil turns in this made-for-television version that add up to plenty of scary stuff.
Based on the novel by Davis Grubb. Chilling...

"He brought God to the community and terror to an innocent family. He preached against 'suffer the little children.' Then he went out and practiced it."