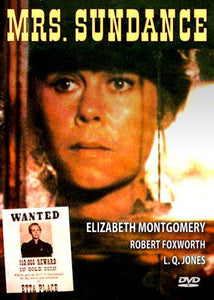 Mrs. Sundance 1974 DVD (Region 1 - Playable in North America - The US, Canada, Mexico, etc.) Color.
Starring: Elizabeth Montgomery, Robert Foxworth, L.Q. Jones.
The Sundance Kid's notorious girlfriend, Etta Place (Elizabeth Montgomery), is on the run with a price on her head, when she hears rumors that the Sundance Kid may still be alive.
(When Etta Place (Elizabeth Montgomery) and Jack Maddox (Robert Foxworth) reach the abandoned schoolhouse where Etta taught, she sees an old bicycle leaning against the railing. If you listen to the music here, you can hear "Raindrops Keep Falling On My Head" playing slowly. This was the theme song to "Butch Cassidy and the Sundance Kid" (1969) and played extensively throughout the scene where Etta and Butch ride this bike.)