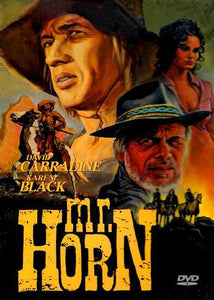 Mr. Horn DVD 1979 (Region 1 - Playable in North America - The US, Canada, Mexico, etc.) Complete Mini-Series. 2-Disc Set. Color. 
Starring: David Carradine, Richard Widmark, Karen Black.
 This two-part miniseries chronicles the life of Tom Horn (David Carradine), one of the greatest trackers in the American West. In the 1880s, American Indian scout Al Sieber (Richard Widmark) enlists Horn's help in finding famed Apache leader Geronimo. After they crisscross the frontier for hundreds of miles, their expedition finally meets success in 1886. But when the military fails to honor Horn's surrender agreement with Geronimo, he leaves the army and begins a life as a bounty hunter.