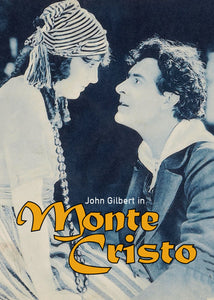 Monte Cristo (1922) DVD B&W (tinted) Silent with English intertitles. Shown in original aspect ratio 1.33:1 Approx. 106 min. Region One - Playable in the US, Canada, Mexico, etc.  Additional documentary "Rediscovering John Gilbert" Color and B&W approx. 32 min. Beautifully restored print with wonderful new score!
Starring John Gilbert, Estelle Taylor, Robert McKim, William V. Mong, Virginia Brown Faire, George Siegmann, Spottiswoode Aitken, Ralph Cloninger, and Albert Prisco. Written by Charles Fechter (play), Alexander Salvini (adaptation), Bernard McConville (scenario), based on "The Count of Monte Cristo" by Alexandre Dumas. Directed by Emmett J. Flynn.
Monte Cristo (1922) was adapted from the classic novel by Alexandre Dumas, directed by Emmett J. Flynn. Gilbert is Edmund Dantes, a sailor unjustly imprisoned for twenty years, time he spends acquiring education and finesse. Later the accidental heir to a vast fortune. Dantes reinvents himself as the Count of Monte Cristo and wreaks havoc, seeking revenge on those symbols of the decadent monarchy who wronged him.
No expense was spared on this prestige film with lavish sets and a distinguished supporting cast. The sole surviving copy of "Monte Cristo" was a worn and choppy print found in the Czech Republic, but nearly complete. English titles have been restored with the help of the original script. A wonderful new score was written from French music of the period.
In addition to the wonderful film, we offer the documentary REDISCOVERING JOHN GILBERT, featuring an on-camera interview with Gilbert's daughter and biographer Leatrice Gilbert Fountain.