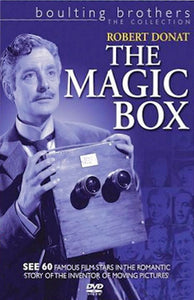 The Magic Box (1951) DVD Approx. 108 Min. Region One - Playable in the US, Canada, Mexico, etc. Color Shown in original aspect ratio 1.37:1
Starring: Robert Donat, Maria Schell, Robert Beatty, Richard Attenborough, Renée Asherson, John Howard Davies, Maurice Colbourne, Edward Chapman, Roland Culver, Richard Best, Michael Denison, John Charlesworth, Martin Boddey, Leo Genn, Robert Flemyng, Marius Goring, Michael Hordern, Mervyn Johns, Glynis Johns, Thora Hird, Laurence Olivier, Dennis price, Michael Redgrave, Margaret Rutherford, Sheila Sim, Peter Ustinov, Kay Walsh, Emlyn Williams and Googie Withers. Written by Eric Ambler from the novel "Friese-Greene, Close Up of an Inventor" by Ray Allister. Director of Photography Jack Cardiff. Directed by John Boulting
This biographical drama gives an account of the life of William Friese-Greene (Robert Donat), who designed and patented one of the earliest working cinematic cameras. Told in flashback, the film follows Friese-Greene's obsessional pursuit of recording the "moving image", to the neglect of his financial situation, and the problems this causes in his two marriages.
The first section of the film is told from the perspective of Mrs Friese-Greene (Maria Schell) telling the story of how she met Willie to a friend. They marry and have four sons but are in constant financial difficulties due to his experiments to create color film. The three oldest boys lie about their age in order to enlist in the army in the First World War. His wife leaves him due to the stress.
Coming out of the flashback, back in 1921, William Friese-Greene, is still in dire financial straits and attends a film conference in London. He is saddened that all those attending are businessmen interested only in moneymaking. He attempts to speak, but no-one is interested and he sits down. He thinks back to his early pioneering days and a longer flashback begins.
The Magic Box is a 1951 British Technicolor biographical drama film directed by John Boulting. The film stars Robert Donat as William Friese-Greene, with a host of cameo appearances by actors including Peter Ustinov and Laurence Olivier. It was produced by Ronald Neame and distributed by British Lion Film Corporation. The film was a project of the Festival of Britain and adapted by Eric Ambler from the controversial biography by Ray Allister.
"A rich and deeply moving story of a man whose achievement opened up a new world, and of the two women whose love and sacrifices made it possible!"