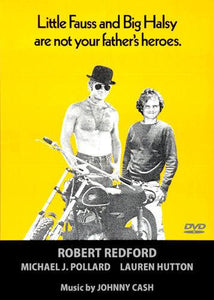 Little Fauss and Big Halsy 1970 DVD (Region 1 - Playable in North America - The US, Canada, Mexico, etc.) Full Frame. Color. 
Starring: Robert Redford, Michael J. Pollard, Lauren Hutton.
The cult classic! Little Fauss (Michael J. Pollard) and Halsy Knox (Robert Redford) are competing motorcycle racers who form an unusual partnership. The pompous and arrogant Halsy agrees to race under Fauss' name while Fauss serves as his mechanic. Rita (Lauren Hutton) is the rich girl recovering from drugs who catches the eyes of both men. She chooses Halsy and eventually has a child by him after he halts his sexual pit stops with the racetrack floozies. Later, Rita bails out and returns to the sheltered environment of her wealthy parents in elite Palm Springs. Little Fauss and Big Halsy pair off in a race for a big prize. All events are witnessed by the lecherous photographer (Ray Ballard).
An excellent musical soundtrack has Johnny Cash singing his own songs, one written by Bob Dylan, and another by Carl Perkins, who also sings one of his self-penned tunes.