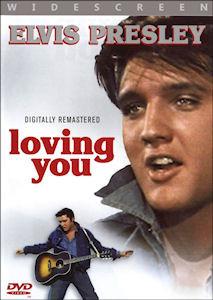 Loving You 1957 DVD (Region 1 - Playable in North America - The US, Canada, Mexico, etc.) Widescreen. Technicolor. Beautiful print!
Starring:Elvis Presley, Lizabeth Scott, Wendell Corey, Dolores Hart, James Gleason, Scotty Moore, Bill Black.
A small-town boy with big-time talent, holding down a series of menial jobs finally gets a break. An ambitious press agent packs him off on a road tour where his music catches on like wildfire and he is suddenly on nationwide TV! This film captures the excitement of the early years of the "King" and is filled with classic Presley tunes such as Loving You, Teddy Bear, and Got A Lot Of Living To Do. This was Elvis's second film, his first starring role, and featured a strong supporting cast, including Wendell Corey, James Gleason, and Lizbeth Scott (her last screen role). The film also features Presley's parents, Gladys and Vernon in the final scene of the film and appeared on screen at one point, in the same frame, as their son. Following Gladys' death a year later, Presley insisted that he would never watch the film again because it would remind him too much of his mother. But with a good supporting cast, this is an entertaining film with Elvis singing and swinging at his best.
He would never be this wild again!