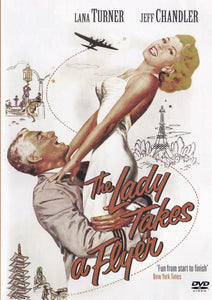 The Lady Takes a Flyer (1958) DVD Approx. 90 min. Color Shown in original aspect ratio 2.35:1 (enhanced for 16:9) Gorgeously remastered and restored! Region One - Playable in the US, Canada, Mexico, etc.
Starring: Lana Turner, Jeff Chandler, Richard Denning, Andra Martin, Chuck Connors, Reta Shaw, Alan Hale Jr., Jerry Paris and Bing Russell. Written by Danny Arnold from the novel by Edmund H. North. Directed by Jack Arnold.
In the aftermath of World War Two, former Air Force colonel Mike Dandridge (Chandler) launches a lucrative air-ferry service with wartime pal Al Reynolds (Richard Denning, Creature from the Black Lagoon). With business booming, Mike hires the gifted and gorgeous Maggie Colby (Turner) as his lead pilot. Together, Mike and Maggie take to the skies and travel the world. In each new city they hit London, Madrid, Paris, Japan sparks fly, and the pair find themselves deeper and deeper in what promises to be a fun-filled, one-of-a-kind romance. But as the stakes are raised for Mike and Maggie both in their lives at home and in the air the duo discovers that the lifestyle they've grown to love might be too difficult to sustain.
One of Hollywood's most popular leading women of the 1950s, Lana Turner (Imitation of Life) stars alongside Oscar nominee Jeff Chandler (Broken Arrow) in this inventive 1958 film part comedy, part romance, part thriller about the lengths to which we'll go for love.
"He's got his arms around her ... all around the world !!!"