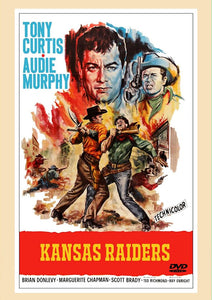 Kansas Raiders (1950) DVD Audie Murphy (Region One – Playable in US, Canada, Mexico, etc.) Beautiful picture and sound. Color. Shown in original aspect ratio 1.37:1 Approx. 80 min.
Starring: Audie Murphy, Brian Donlevy, Marguerite Chapman, Scott Brady, Tony Curtis, Richard Arlen, Richard Long, James Best, John Kellogg, Dewey Martin, Richard Egan. Produced by Ted Richmond. Screenplay by Robert L. Richards. Directed by Ray Enright.
Jesse James (Audie Murphy) and his friends -- brother Frank (Richard Long), brothers Cole (James Best) and Jim Younger (Dewey Martin), plus Kit Dalton (Tony Curtis) -- arrive in Lawrence, Kansas, and are falsely accused of being members of Quantrill's Raiders. They are about to be lynched but are saved by the intervention of a Union officer.
The men are released and they go on and join Quantrill (Brian Donlevy). Jesse at first admires Quantrill but comes to question his devotion after seeing atrocities committed by the man and his troops. He also falls for Kate Clarke (Marguerite Chapman).
"THE FURIOUS, FIGHTING STORY OF QUANTRILL'S GUERILLAS!"