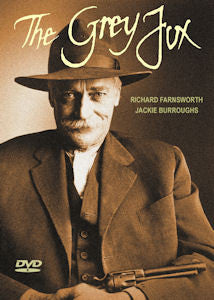 The Grey Fox 1982 DVD (Region 1 - Playable in North America - The US, Canada, Mexico, etc.) Full Frame. Color.
Starring: Richard Farnsworth, Jackie Burroughs, Ken Pogue. Written by John Hunter. Directed by Phillip Borsos.

In this film based on a true story, Bill Miner (Richard Farnsworth) is a fearless stagecoach robber in the days of the Wild West. After he is arrested and jailed for more than 30 years, he re-emerges into a bustling new world. But Miner cannot give up his old ways. Soon he pulls off a successful railway heist and goes on the lam in British Columbia, where he falls for bold photographer Katherine Flynn (Jackie Burroughs). But Miner was not built for settling down.
A brilliant performance by Farnsworth and a lovely Celtic score by The Chieftains adds to the shine of this classic and unique Western.
"In 1901, after 33 years in San Quentin, Bill Miner "The Gentleman Bandit," was released into the Twentieth Century."