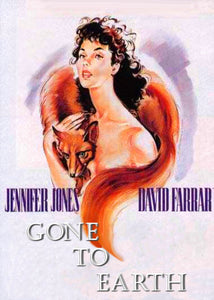 Gone to Earth (aka The Wild Heart) 1950 DVD (Region 1 - Playable in North America - The US, Canada, Mexico, etc.) Completely restored and uncut. Color.
Starring: Jennifer Jones, David Farrar, Cyril Cusack.
Hazel Woods is a beautiful young English Gypsy girl who loves animals and, in particular, her pet fox. She is hotly desired Jack Reddin, a fox-hunting squire, who vies for her affection and pursues her even after her marriage to the local pastor.
One of cinematic masters' Michael Powell and Emeric Pressburger's most beautiful and disturbing masterpieces, with stunning photography, superb performances, glorious Technicolor, and a haunting music score by Brian Easdale.
Fully restored to its original British form and running time. A rich-hued classic film, ripe for rediscovery!