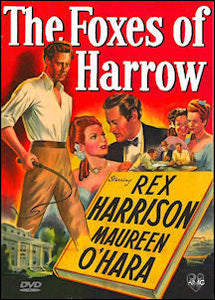 The Foxes of Harrow 1947 DVD (Region 1 - Playable in North America - The US, Canada, Mexico, etc.) Black & White. New, lower price for a limited time!

Starring: Rex Harrison, Maureen O'Hara, Victor McLaglen, Vanessa Brown, Hugo Haas, Richard Haydn, Patricia Medina, Gene Lockhart. Written by Wanda Tuchock, Thomas Job based on the novel by Frank Yerby. Directed by John M. Stahl.

In 1827 New Orleans, a transplanted Irishman (Rex Harrison), who was the bastard son of the daughter of a nobleman, falls in love with the strong willed, stubborn daughter (Maureen O'Hara) of an aristocratic Creole family. He is determined to marry the girl and build an empire and a dynasty for their son. But her strong will is what will prevent their marriage from ever being truly happy.
Based on the best seller by Frank Yerby (the first million-seller novel by an African-American), this is an old fashioned historical drama of the Old South that plays out like a good and juicy page turner. This film has some startling (for its time) moments as when, a proud slave attempts to kill her child rather than letting it grow up to be a slave or when a white woman takes a black child to replace the son she's lost.
Joseph LaShelle's crisp cinematography and a rousing score by David Buttolph further elevate this sweeping, epic saga. Nominated for an Academy Award for 'Best Art Direction-Set Decoration, Black-and-White'.

"The Pages of a Best Seller Pour Their Excitement Onto the Screen!
The fire that was in him -- would always kindle the flame in her heart!"