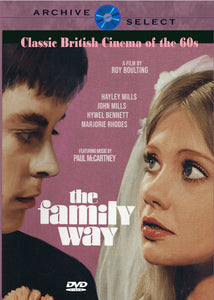 The Family Way (DVD) 1966 (Region One - Playable in the US, Canada, Mexico, etc.) Approx. 111 min. Color Optional subtitles for HoH Shown in its original aspect ratio: 1.66 : 1 (16:9) Presented here as a brand-new remaster from original film elements in its original theatrical aspect ratio.
Starring: Hayley Mills, Hywel Bennett, John Mills, John Comer, Diana Coupland, Marjorie Rhodes, Murray Head, Avril Angers, Wilfred Pickles, Barry Foster. Written by Roy Boulting and Jeffrey Dell based on "All in Good Time" by Bill Naughton. Directed by Roy Boulting.
This gently farcical British comedy stars Hayley Mills and Hywel Bennett as Jenny and Arthur, a young couple who have just gotten married. However, while both of them are filled with anticipation for their honeymoon, a practical joke played by their 'friends' causes their bed to collapse just as they're about to consummate their relationship. Through a variety of misfortunes, they end up spending the night at the home of Arthur's parents, where nervousness and a certain lack of privacy make it difficult for them to enjoy their first night together as they'd wish. While a bit of frank language and some fleeting nudity by former child star Hayley Mills generated a certain amount of controversy upon first release, by today's standards "The Family Way" is more easily seen as the compassionate relationship comedy its creators intended. "The Family Way" is also of note to Beatles fans as the first film scored by Paul McCartney and George Martin.
"VARIETY" wrote: "Hayley Mills gets away from her Disney image as the young bride, even essaying an undressed scene. Bennett is excellent as the sensitive young bridegroom. But it is the older hands who keep the film floating on a wave of fun, sentiment and sympathy. John Mills is firstclass in a character role as the bluff father who cannot understand his son and produces the lower working-class man's vulgarity without overdoing it. Avril Angers as the girl's acid mother and John Comer as her husband are equally effective, but the best performance comes from Marjorie Rhodes as John Mills' astute but understanding wife."
"A girl, a boy, a tender, funny, terrible wedding night."