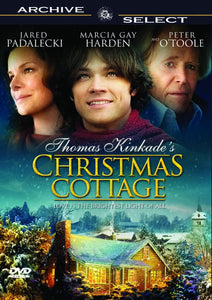 Christmas Cottage (Thomas Kinkade's Christmas Cottage) 2008 DVD Color Approx. 103 Min. Widescreen (1.85:1 – 16x9) Optional English subtitles (Region 1 - Playable in North America - The US, Canada, Mexico, etc.)
Starring: Jared Padalecki, Marcia Gay Harden, Peter O'Toole, Aaron Ashmore, Geoffrey Lewis, Chris Elliott, Charlotte Rae and Edward Asner. Witten by Ken LaZebnik. Directed by Michael Campus.
Thomas (Jared Padalecki), a young artist returns to his hometown of Placerville, California, and anticipates another perfect family holiday. Instead, he finds that his mother (Marcia Gay Harden) is about to lose her home to foreclosure, and the entire town is struggling in the wake of a failing tourist industry. With the help of his ailing mentor (Peter O'Toole), Thomas hopes to find his artistic voice and help the town rediscover the holiday spirit.