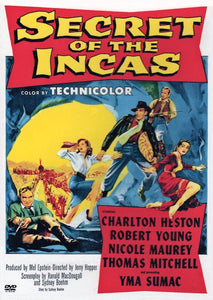 Secret of the Incas 1954 DVD (Region 1 - Playable in North America - The US, Canada, Mexico, etc.) Color. 97 min. Beautifully re-mastered!
Starring: Charlton Heston, Robert Young, Thomas Mitchell, Nicole Maurey, Yma Sumac
American adventurer Harry Steele (Heston) earns a living as a seedy tourist guide in Peru but plans to make his fortune by finding the Sunburst, a gold Inca treasure. He possesses an ancient carved stone which gives its location but has no means to travel to its hiding place – Machu Picchu.
While helping a beautiful Romanian defector (Maurey) escape to America through Mexico, Harry discovers an archaeological expedition at Machu Picchu, headed by Dr. Moorehead (Young) whose team is just about to enter the tomb where the Sunburst is located. Harry's arch nemesis Morgan (Mitchell) arrives and coerces Harry into helping him, instead of the good doctor. But, while Morgan sleeps, Harry slips away, and enters the tomb…
Great action, shot on location in Peru, in gorgeous technicolor, "Secret of the Incas" gave George Lucas and Steven Spielberg the idea for the character and style of Indiana Jones for "Raiders of the Lost Ark". Vibrant, eerie mood music is featured by the stunningly amazing Peruvian singer Yma Sumac, a descendant of the Incas with a 4 1/2 octave vocal range.