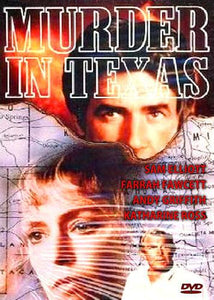 Murder in Texas 1981 DVD (Region 1 - Playable in North America - The US, Canada, Mexico, etc.) Complete Mini-series. Color. 
Starring: Katharine Ross, Sam Elliott, Farrah Fawcett, Andy Griffith.
Based on the true and notorious murder case. John Hill (Sam Elliott) is a plastic surgeon who may not be what he seems. His first wife, Joan Robinson (Farrah Fawcett), is a socialite who falls ill and dies under suspicious circumstances. Hill proceeds to marry his mistress, divorcée Ann Kurth (Katharine Ross), with whom he conducted an affair while still married to Joan. Ash Robinson (Andy Griffith), Joan's father, is convinced that Hill murdered his daughter. And he is intent on bringing the doctor to justice.
Rare and wonderful mini-series - a must see!