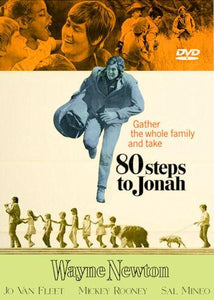 80 Steps to Jonah DVD (Region 1 - Playable in North America - The US, Canada, Mexico, etc.) Color. 
Starring: Wayne Newton, Mickey Rooney, Jo Van Fleet, Keenan Wynn, Sal Mineo, R. G. Armstrong, Slim Pickens, Brandon Cruz, Erin Moran
Nevada police take into custody drifter Mark Jonah (Wayne Newton), although he claims he was an innocent hitchhiker after the crash of a stolen car in which hoodlum Jerry Taggart (Sal Mineo) is killed. Mark escapes and accidentally takes refuge in a summer camp for blind children.The youngsters sense Mark's gentleness, learn to love him and soon they are following him everywhere as their Pied Piper figure.
A beautiful musical film for the entire family!